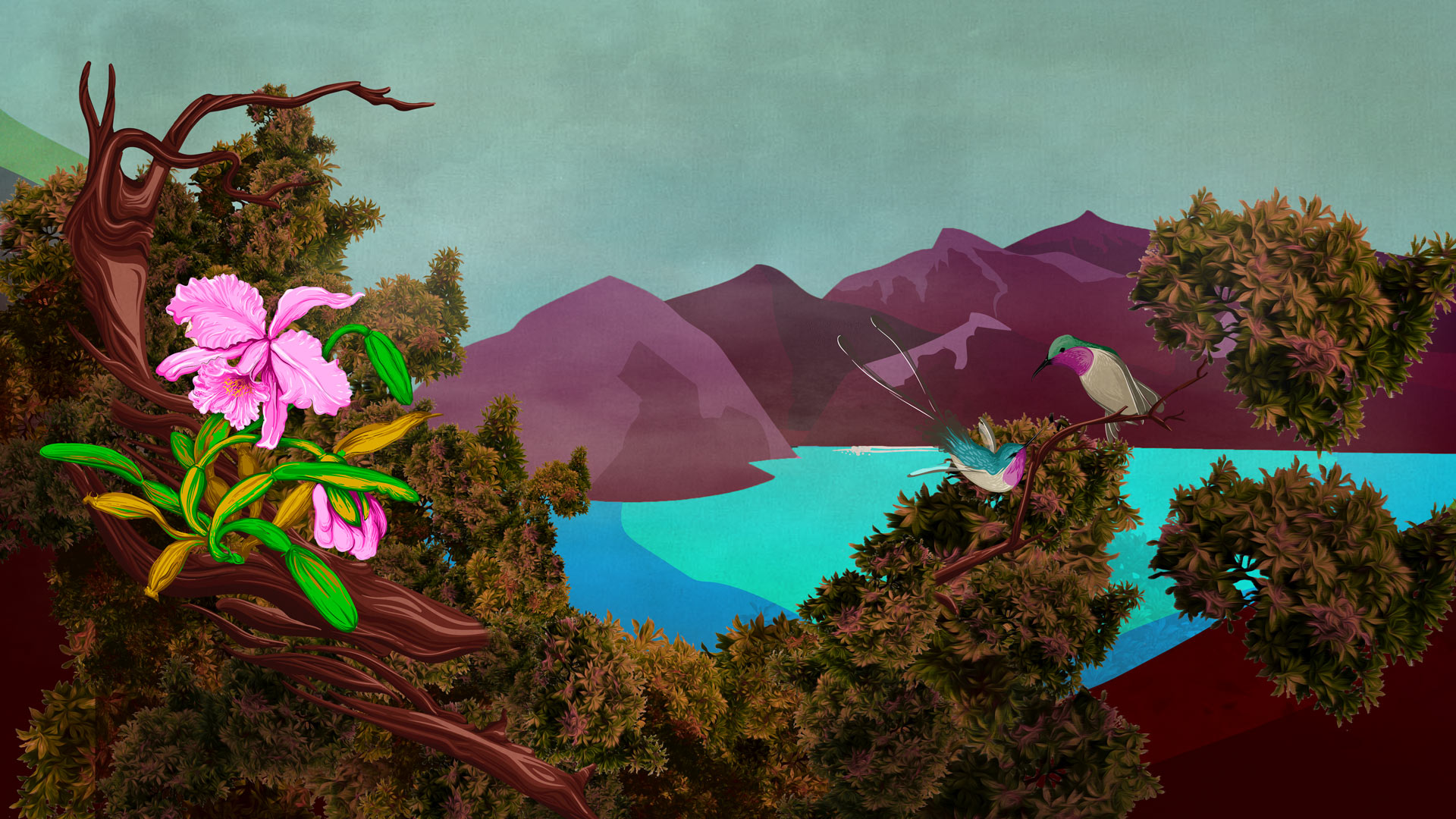 Call for papers – Landscape Art of the Americas: Sites of Human Intervention across the Nineteenth Century
This post is also available in: Español
Landscape Art of the Americas: Sites of Human Intervention across the Nineteenth Century: An International Symposium
Universidad de los Andes, Bogotá, Colombia. Mayo 21 – 23, 2020
---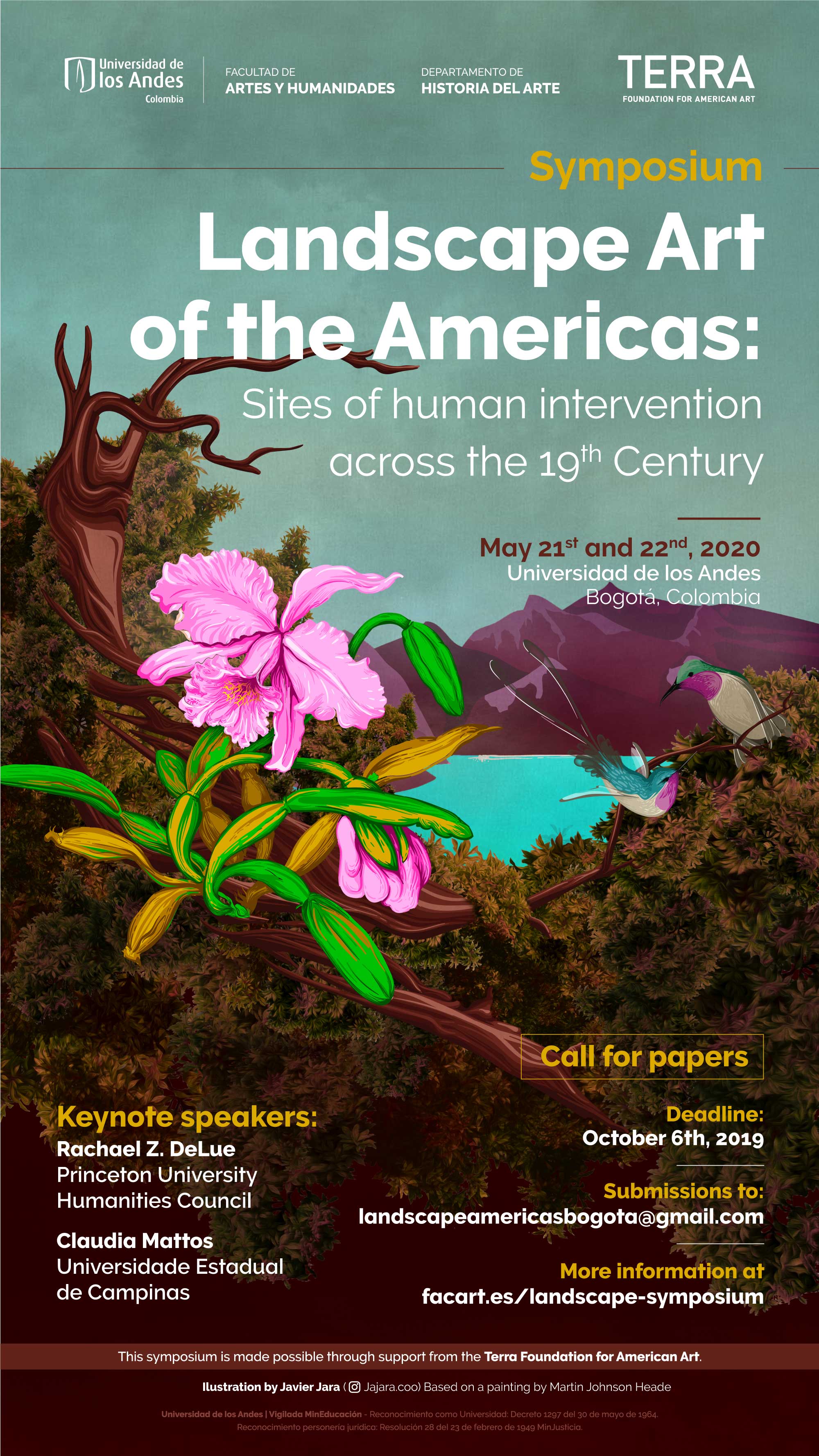 ---
Call for papers
Landscape, for Alexander von Humboldt, was "the totality of all aspects of a region as perceived by men." It references an area whose character is the result of the interaction of human and natural factors. All too often, however, the Americas are characterized as "Edenic," untouched by the hand of man, the proverbial "Natural Paradise." Taking the long nineteenth century as its focus, this conference seeks papers that examine landscape art of the Americas in which human intervention is evident. There is a history of this mode of landscape art that has yet to be fully explored. Not only Euro-Americans but also Indigenous peoples left their marks on the land that also deserve investigation. Evidence for this line of inquiry might be explored in oil paintings, photography, prints, maps, sketchbooks, books of picturesque travel, and three-dimensional artifacts. In sum, we seek papers that serve to problematize prevailing interpretations of the terrain of the Americas, bringing the natural landscape into dialogue with the cultural landscape. Considering landscapes from across the western hemisphere allows us to identify parallels, confluences and divergences in subject and approach that provide further insights, consistent with a Humboldtian worldview. 
This Symposium will lead important discussions on nineteenth-century landscape through sessions of exchange and dialogue. The importance of thinking about landscape in the nineteenth-century from a twenty-first century viewpoint will open the possibility of understanding how our construction of notions of landscape, meaning, circulation, representation and uses frame how many nations see themselves. With a variety of participants, the event will allow for new topics of study to be submitted, new methodologies of approaching this subject and new research projects to be suggested. Located in Bogotá, at the top of the plateau on the Andes Mountains located 8660 ft. above sea level on the Eastern Cordillera, the Universidad de los Andes is an ideal venue to host an event that takes landscape as its central theme. It was, precisely, this Andean environment which stimulated travelers such as Humboldt, Baron Gros, Frederic Church and others to form new ideas about art and science. With fantastic nineteenth-century art collections at the National Museum, at the National Library and at the Bank of the Republic, all of them within walking distance from the University the Symposium will prove to be held in an ideal environment that will promote discussions on landscape as a central topic.
Topics might include but are not limited to:  agricultural imagery, indigenous sites, deforestation and ecology, railroad construction, landscapes and mining, migrations and landscape, symbolic landscape , ports and commerce, navigation and river systems, telegraphs and modern technology, natural landscapes and cultural landscapes, romantic landscape, travelling and migration, bridges & road building, women intervening in the land, female landscape artists and photographers, travel and print culture (newspapers, magazines and their role in narrating the landscape)
Proposals and papers may be presented in Spanish or in English. Simultaneous translation will be provided throughout the conference.
---
Keynote speakers:
Dr. Rachel Z. DeLue, Princeton University
Dr. Claudia Mattos Avolese, Universidade Estadual de Campinas
---
Deadline:
October 6th, 2019. For individual papers, send 250-word proposals. Please include a one-page CV with your name, affiliation, and email address. Send proposals, CV and inquiries to landscapeamericasbogota@gmail.com
---
Organizers:
Verónica Uribe, Chair, Department of Art History, Universidad de los Andes, Bogotá, Colombia
Katherine Manthorne, Prof. Modern Art of the Americas, Graduate Center, City University of New York
---
There are some travel awards available for graduate students enrolled in PhD programs. Please indicate when you submit your abstract if you are interested in being considered for travel support.